Columbo at Play

"Do you enjoy games, Lieutenant?" "I've never had time for them, sir..."

How To Dial A Murder

Columbo's job is his main joy in life, with his marriage running close or equal.
He hardly seems to need any other hobbies or recreation. But Columbo does have a few outside interests, and occasionally can be persuaded to try something for fun.

Here are some examples:

Columbo especially likes to go bowling -- he finds it therapeutic: "When I'm down in the dumps, I go bowling."

Forgotten Lady

Sometimes Columbo bowls with his wife, who belongs to a league, and sometimes he goes bowling with his friend Harry.

The Most Dangerous Match

But Columbo works such odd hours that he admits he hasn't been bowling for two years (The Most Dangerous Match). And we still have never seen him with a bowling ball.

He claims he doesn't play golf, and mumbles something about how the game costs money

Double Exposure.




But,...watch him take a swing in Death Lends A Hand and judge for yourself.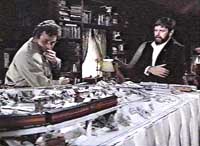 Likes model trains - "I tell ya the truth, I could play with something like that
forever." The Bye Bye Sky-High I.Q. Murder Case

When he was a kid, Columbo liked to make model airplanes. "But I always wrecked 'em before I finished 'em" Make Me A Perfect Murder

Likes riddles, but claims he doesn't have "a feel for 'em" - The Bye Bye Sky-High I.Q. Murder Case

Singing: Columbo claims he's "probably the only Italian in the world who can't sing" Any Old Port In A Storm, but that doesn't stop him from trying.

In addition to his signature tune "This Old Man," we have heard him humming "Molly Malone" Last Salute To The Commodore and loudly singing ""Swing Low, Sweet Chariot," "Yankee Doodle" and "My Darling Clementine". Make Me A Perfect Murder.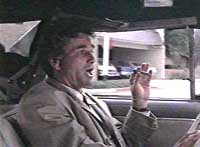 Click Here to Download A Columbo Sound!

He especially likes to sing while he is alone driving in his car
Make Me A Perfect Murder, Columbo And The Murder Of A Rock Star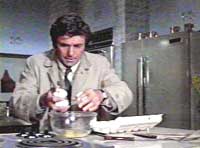 Columbo does "a little cooking...nothing fancy," and he reads the food columns. Murder Under Glass His specialty is making an omelette Murder By The Book.

He has a wide knowledge and appreciation for fine foods including French and
Italian cuisine Murder Under Glass

Dancing: In Forgotten Lady Columbo says he has "two left feet" as a dancer,
and that he feels too self-conscious to dance in public. But his wife is a terrific
dancer, so when they're out she has to sit-out the dances.

But Columbo has also said that dancing with the wife is "the only exercise" he gets.

And we see him start to "boogie down" to the music of Little Richard in Columbo And The Murder Of A Rock Star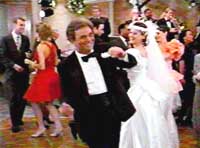 And by No Time To Die Columbo is dancing up a storm at his niece's wedding. So it looks like over the years, Mrs Columbo has dragged him to enough dances
that Columbo has gotten over his self-consciousness and seems to actually enjoy himself on the dance floor.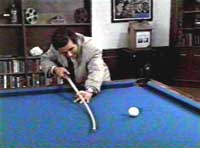 He loves to play pool, but doesn't get much chance to anymore. How To Dial A Murder

Also says he played pool as a kid, that his father taught him -- but that he doesn't have room for a pool table in his basement The Greenhouse Jungle

In The Greenhouse Jungle Columbo says he loves to go to the beach.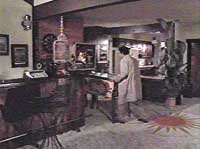 Columbo also likes pinball -- it "carries me back to my corner candy store".
He'd like to have a pinball machine at home but unfortunately the Mrs "would
never go for it". The Conspirators

He speaks poetically of pinball as a metaphor for his philosophy of life. When he makes Devlin's pinball machine go "Tilt", he says: "I guess I tried a little too hard -- but that's an old problem with me, sir. The way I keep steering and pushing and pulling at things, some day the whole sky is gonna light up and it's gonna say TILT! And that's gonna be the end of the world."

Click here to Download A Columbo Sound!

He likes to listen to ball games while "testing out a new hammock" The Most Crucial Game

Columbo is something of an outdoorsman. Maybe this comes from growing up on the City streets, and from his childhood fun at summer camp, where he got to drink hard cider. By Dawn's Early Light

He has been known to take the wife and "kid" on a picnic. Any Old Port In A Storm

And to celebrate his 25th wedding anniversary, he wants to take Mrs. Columbo camping in the woods. (When asked if his wife enjoys that kind of thing,
Columbo evades the question.) Death Hits The Jackpot

Since Columbo doesn't like guns, it's a safe bet he doesn't hunt, but Columbo
does enjoy fishing. In fact, the chili-parlor owner offers to trade him, free chili for fresh fish. Dead Weight

He may be a bit of a coin collector, and knows something about the value of coins: One time he found "a silver dime that was worth 40 or 50 cents" Rest In Peace, Mrs Columbo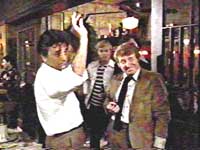 We have seen him play darts, something he learned years ago from the sainted Sgt. Gilhooley at the 12th precinct The Conspirators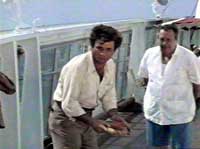 Columbo tries playing quoits on shipboard in Troubled Waters, but it's not his game. He throws the quoit way off-target and straight into the ocean.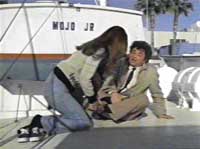 Columbo has even been persuaded to try transcendental meditation. But he claims his legs won't go into the right position.

Last Salute To The Commodore