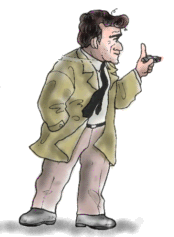 Vol.1 No.2 Winter 1992 - by Mark Dawidziak
About halfway through director Frank Capra's last Hollywood film, A Pocketful of Miracles (1961), two delightful actors collide for a brief hallway scene. Look for the moment. Freeze it. There they are: crafty screen veteran and an equally crafty newcomer with one common role in their future--slovenly homicide detective Lieutenant Columbo. Thomas Mitchell was 68. Peter Falk was 33.

At the same time that A Pocketful of Miracles was being sneak previewed to summer audiences in preparation for a December release, NBC aired "Enough Rope," a one-hour installment of The Chevy Mystery Show. A live drama by Richard Levinson and William Link, the episode was based on the writing team's 1950s short story "May I Come In" (also known as "Dear Corpus Delect"). Character actor Bert Freed played Lieutenant Columbo. The distinction of being the first actor to portray Columbo means little to Freed. He doesn't even remember the production.

Levinson and Link were not pleased with the direction and low production values of "Enough Rope." Capra, saddled with a difficult star (Glenn Ford), was not pleased with A Pocketful of Miracles. The entire production was agony . . . except for Peter Falk. "Peter Falk was my joy, my anchor to reality," Capra wrote in his charming and candid 1971 autobiography, The Name Above the Title. "Introducing that remarkable talent to the techniques of comedy made me forget pains, tired blood, and maniacal hankerings to murder Glenn Ford. Thank you, Peter Falk." Mitchell was another of Capra's joys. A member of the director's stock company, Mitchell had played fugitive swindler Barnard in Capra's Lost Horizon (1937), Washington reporter Diz Moore in Mr. Smith Goes to Washington (1939) and forgetful Uncle Billy in It's a Wonderful Life (1946). "Tommy Mitchell was heaven's answer to our prayer," Capra said of the busy supporting actor's casting in Mr. Smith Goes to Washington. "In fact, he was soon to become heaven's answer to many a director's prayer--including John Ford's."

Almost immediately after "Enough Rope" aired, Levinson and Link began working on a stage version. They would need a big-name actor to play Lieutenant Columbo. The answer to their prayer was Thomas Mitchell. The producer who agreed to stage Levinson and Link's play--now titled Prescription: Murder--assembled an impressive cast. Joseph Cotten (drunken Leland in Citizen Kane) would play Ray Fleming, the psychiatrist who comes up with the seemingly perfect way to murder his wife. Agnes Moorehead, another graduate of Orson Welles' Mercury Players, would play Fleming's wife. And Mitchell was their choice to play Lieutenant Columbo, a cigar-smoking bulldog of a New York
City police detective.

"We met for our first rehearsal at the American Legion Hall on Hollywood Boulevard," Bill Link recalls. "It was a difficult cast to work with. We were young writers with no reputation, and nobody was nice to us. Joseph Cotten was very difficult. Agnes Moorhead was very forbidding, almost like Mrs. Dancers in 'Rebecca.' And the first thing Thomas Mitchell said to us was, 'In my theater. writers sit in the last row.' That scared Dick and me to death. You can imagine the impact of that on young writers hoping that their play is on its way to Broadway." Other problems emerged. Mitchell, who was not in good health, did
not want to learn new lines. He decreed that the script would not change.

This was particularly chilling news to Levinson and Link because
they wanted to use a national tour to strengthen their play. They knew
the third act was weak. The murder and the alibi were so good that the
resolution wasn't strong enough.

"Mitchell was very crusty," Link says. "He had infrequent good days. One of those days was when we rehearsed at his home. I was just starting to collect art, and he had a wonderful collection. He showed it to me with great pride, so that was a nice day."

Prescription: Murder had its world premiere at the Carran Theatre in San Francisco. It was the start of a lucrative 25-week tour through the United States and Canada. When the producer suggested Broadway, Levinson and Link demanded changes for the third act. Why mess with a play making money? The producer backed Mitchell's original demand: no changes.

Levinson and Link replied by threatening to slap an injunction on the play. So Prescription: Murder was denied a New York opening

"We were relieved," Link says. "We didn't want our first Broadway show to be a play we knew was structurally flawed."

Yet the 1962 tour of Prescription: Murder was of great value.
Mitchell proved the great appeal of Lieutenant Columbo. Fleming was
supposed to be the central character. Cotten was supposed to be the star. But
in San Francisco, Fargo and Detroit, the applause would go crazy for
Mitchell, then drop off when Cotten took his bows. The cop was the real
star, and it took that tour to make Levinson and Link realize it. Dressed in
a heavy overcoat and dropping cigar ashes everywhere, Mitchell was
turning on the Irish charm and winning over audiences in city after city.
"He played it far straighter than Peter's Columbo," Link explains.
"He was more the standard Irish homicide investigator. But there was a
sense of humor. You did see that twinkle. There was a bit of the
leprechaun to his portrayal."

Next issue:
The career of Thomas Mitchell and his untimely death
during the run of Prescription: Murder.

MARK DAWIDZIAK IS THE AUTHOR OF "THE COLUMBO PHILE: A CASEBOOK"

A Little Background

Two events coincided to result in the creation of the Columbo
Newsletter. The first was the return, in February 1989, of the
program with new episodes for the first time in 11 years. This spate of
new Columbos has revived prior interest in the program and created new
fans of its unique format, perfectly-cast star and creative mysteries.

The second, and by far more significant event (for these purposes)
was the publication in 1989 (although I didn't get my copy until
Spring 1990) of Mark Dawidziak's The Columbo Phile: A Casebook (The
Mysterious Press, New York, NY), the first and to date only reference book to
deal exclusively with the famous Lieutenant. Now for the first time, we
fans had at our fingertips the answers to those interesting questions
that a quick glimpse on television simply couldn't tell us, such as,

Q. How many episodes Ben Gazzara directed?
A. 2--A Friend in Deed and Troubled Waters

Q. How many of the original 43 episodes were 90 minutes?
A. (27)

Q. How many were 2 hours?
A. (16).

I read the book many times, and then I sat down and wrote Mark
Dawidziak. I told him how much I had enjoyed it, how I appreciated
his details . . . and how he'd made just a few mistakes here and
there. To my suprise, he wrote back, and we have enjoyed a stimulating
correspondence since then, which I hope will continue. During one
of my letters, I inquired of Mark if there was a fan club or newsletter
through which we could share our thoughts with a larger audience.
He said not yet, but why don't you do something about it? And so I
have. I'd like to take just a moment now to explain what this newsletter
is about and where we'll go from here. As the first two issues should
make clear, not only do I have no connection with the production of the
show, but I am also under no directives to offer only praise. Of course
I love Columbo--I wouldn't create an entire newsletter for it otherwise.
But every episode is not equally enjoyable and every clue is not
equally delicious; in fact, some of them (clues and episodes) are pretty
poor, in comparison with others, of course (not with other programs of
this genre, few that they are; Columbo beats them hands down).

There are two consequences to the statement I just made. One is
that not everyone will agree with my movie and episode reviews, and I look
forward to some stimulating debates. Next issue, with my review of
Murder by the Book, I will introduce what will probably be the
most controversial aspect of this newsletter--I will rank the episodes.
In each instance, I will offer substantive reasons for my ranking,
but I'll bet they won't convince all of you, so let's hear some chatter.

The second consequence is that, while Mark is my friend and an
expert on Columbo, I don't always agree with him either, and although I
doubt he intended to make his book the authoritative statement of what
makes the best and worst episodes, he sometimes (but not always) expresses
an opinion, which I may refer to if only to get the conversation
going. For example, be forwarned: Mark makes very clear that he believes the
first episode is the best. I disagree, and I'll tell you why . . . next
issue.

Sheldon P. Catz, Editor

Here's a Mystery Even Columbo Can't Solve
In my first article, I argued that much of the behavior Columbo
uses to solve cases consists of personal mannerisms which he exaggerates
as the case requires. I was intending in this issue to continue this
argument by noting Columbo's forgetfulness (in the sense of an
absent-minded professor; he always remembers details related to the case)as
another example. This trait was chosen because this issue is thematically
organized around Ransom for a Dead Man and it was there wherein
the first example of forgetfulness not related to a case was shown--he
forgot his billfold and even with thousands of dollars in front of
him (all evidence), he had no cash to pay a bar tab in the closing
scene.

(Careful viewers may point to the fact that, in the first movie
(Prescription: Murder), Columbo, having misplaced his own pencil,
had to borrow a pen from Dr. Fleming. However, it could be easily argued
that he borrowed it only so that would have an excuse to make a
"return" visit.)

However, one other characteristic of this series, also started in
this movie, is one which I find troubling because it violates logic.
Namely, that the murderer is a prominent criminal attorney. Of course, the
idea that a criminal attorney could commit murder in and of itself is
not incredulous; however, the fact that a prominent criminal attorney
in Los Angeles would not have come in contact with, and know well, an
investigator of Columbo's ability, rank, and reputation goes
beyond explanation. It is a mystery even Columbo can not solve. The
problem is basic. A successful criminal attorney practicing in L.A. would
frequently have occasion to deal with the higher ranking
investigators of the L.A.P.D. and would most often deal with them in an
adversarial fashion. Such an attorney would make it a point to know each
officer's weaknesses and modus operandi (especially if it varied from
Standard Operating Procedure).

Columbo is an investigator of both unusual methods and high
prominence. That his methods are unusual should be obvious to anyone who
watches even one episode. His prominence in the department was directly
apparent in two episodes and tangentially apparent in one other: In Last
Salute to the Commodore, there is a young protégé noting
his reputation;

In Columbo Cries Wolf, one of his superiors (in a bathroom scene no
less) lands him as one of the department's best; and in Grand Deceptions
he indicates that he usually has no one working under him (although
in many episodes some sergeant has been temporarily assigned to him, the
lack of consistent supervisory duties implies special privilege and thus
prestige). That a prominent criminal attorney would be unaware of
who Columbo is, let alone never have come up against him while
defending a criminal Columbo has caught, is unbelievable.

Similarly, Columbo is a bright man. Never in any episode has he
forgotten the abilities of either those he has come up against or
those he has worked with, either directly or peripherally. There is even
evidence that he remembers such details years later in Rest in Peace, Mrs. Columbo,
he easily remembers details of a person in a case he solved more than a decade earlier.
Further, a detective of his stature, with at least 15 years on the force as
a lieutenant (1967-1982), would know of the good criminal attorneys in L.A.
It is likely that after all those years and the cases they contained he would
have faced most of them in court (affluent murderers can afford the best attorneys)
and would know of them and their operating procedures.

One explanation which may keep Ransom for a Dead Man plausible
(but only by a real stretch) is the possibility that a professional may be
new to an area and thus would not yet have met all the prominent people
in his/her field or in related fields. It is clearly presented in the
movie that Leslie Williams was not new to the area, but if one could
imaginethat Columbo was new to L.A. (Mark Dawidziak argues in his book
that Columbo is a transplanted New Yorker), it might be plausible that
the two of them had not yet met. (It stretches credulity since Columbo
seems to be established in the department in Prescription: Murder, which
occurs three years prior to the events in this movie; three years
seems long enough to get to know everyone).

This explanation does not work for any of the subsequent episodes.
Two prominent examples are Oscar Finch in Agenda for Murder and Hugh
Creighton in Columbo and the Murder of a Rock Star. It seems plain
from the context of the episodes that both Finch and Creighton were
well established as attorneys in the L.A. area. Columbo would know them
and vice versa.

These instances are not the only ones where the murderer and
Columbo should know each other well. In A Friend in Deed, Police
Commissioner Mark Halperin was ignorant of Columbo's abilities and ruses
(though in all fairness, it is not clear how attentive Halperin was to his
duties and it did seem Columbo knew the Commissioner by reputation).
However, the cases with the attorneys are the ones which best serve the
point. Whether we as viewers see more of these incredulous situations is
solely up to the writers and editors who chronicle Columbo's cases. I
beseech them: pay attention to who Columbo is, the type of reputation he
has, and with whom he is likely to have already come in contact. If you
must pit him against an attorney he does not know, please have that
attorney be one who specializes in something other in criminal law. One
example where this was done well was in The Bye-Bye Sky High IQ Murder
Case with the murderer being tax attorney Oliver Brandt. Similarly, if you
do find among Columbo's case files another murderous criminal attorney (or
police official), please develop the script as though they are on
to each other (besides, the cat- and-mouse game would improve by
legions this way).

And as long as I have the attention of the writers (or am under
the delusion that I do), I would like to suggest that Sgt. Hubach of
Columbo and the Murder of a Rock Star (as played by Sandra Currie) become
a regular or at least semi-regular character. Her active demeanor
and polished professionalism provides a solid contrast to Columbo
without turning either into a stereotype: my compliments to those who
created the character and Ms. Currie who played her well.

Glossary of Terms

In discussing Columbo episodes, certain terms will be repeated.
Here are definitions:

Final clue--that last clue, be it a piece of evidence that places
the murderer at the scene or a trick that is incriminating, that takes
the last fifteen minutes of an episode and leads Columbo to say (in
earlier times) "Officer" or (more recently) "book him, suspicion of
murder" (whatever that means).

First clue--that first observation made by Columbo and missed by
others that leads the Lt. to believe that the body in front of him did
not result from the accident, suicide, etc. that the murderer has set
up. Behavioral clue--as discussed in this issue, an observation by
Columbo of odd behavior by the murderer, either in doing something
unexpected (fainting) or not doing something expected (inquiring after a
kidnapped husband).

Letter to the Editor

I hereby charge Peter Falk/Producers of Columbo and Angela
Lansbury/Producers of Murder, She Wrote of commiting the perfect
crime . . . the crime of bigotry and insensitivity. At this writing, they
have yet to acknowledge and credit any black person with the
intelligence, capability and savvy to plan and commit a "perfect" murder.
Until this grievous and injurious practice is remedied, I and many other
"quota" fanatics will, for our black friends, demand a rightful and
constitutional place in the (up to now) lily-white murderer's row
of notables.


Robert Robusto, Bel Air, MD

Editor's Review - Ransom for a Dead Man

(2 hour movie)

Airdate: 3/1/71

Murderer: Leslie Williams (Lee Grant);

Victim: Paul Williams (Harlan Warde);

Other Cast:

Michael Clark (John Fink)
Mr. Carlson (Harold Gould)
Margaret Williams (Patricia Mattick)
Hammond (Paul Carr)
Phil (Jed Allen)
Richard (Charles Macaulay)
Attorney (Henry Brandt)
Pat (Jeane Byron)
Perkins (Richard Roat)
Celia (Norma Connolly)
Crowell (Bill Walker)
Bert (Timothy Carey)
Judge (Judson Morgan)
Priest (Richard O'Brien)
Gloria (Celeste Yarnell)
Nancy (Lisa Moore)
Waitress (Lois Battle)
Mechanic (Reginald Fenderson)

Written by: Dean Hargrove, from a story by Richard Levinson and William Link
Directed by: Richard Irving
Executive Producer: Richard Irving
Music: Billy Goldenberg

Synopsis

Lawyer Leslie Williams shoots her husband Paul and dumps the body
in the ocean. The next day, she creates the scenario that he has been
kidnapped. A trained crew from the FBI and a shopworn L.A.
Lieutenant named Columbo follow her in a helicopter as she flies her private
plane to the "drop site" and tosses out an empty bag, keeping the ransom
money for herself. All goes well until her stepdaughter Margaret comes
home from Zurich and immediately suspects Leslie of foul play. Margaret
finds an ally in Columbo, who has already noticed little details such as
the oddity of criminals in a hurry taking the cash and leaving the
bag, the small caliber bullet used to murder Paul Williams (so that blood
wouldn't splatter in the house), the car keys instinctively
removed from the ignition, the fact that the seat was moved up (to accommodate
the shorter Leslie) and Leslie's odd behavior--failing to inquire
about her husband's well being when he called (actually a tape Leslie made
from various legal conversations of Paul's) and then suddenly fainting
at the news of the discovery of his body. Margaret picks up on the
missing keys idea and tries to frame Leslie by having a set copied and claiming
the keys are her father's, but Columbo catches her in the act. Leslie
has had more than enough of Margaret when the young woman offers to go
away if Leslie will pay her off. Leslie does so and escorts Margaret to
the airport, where she is met by Columbo. It was a trick, predicated
upon the Lt.'s observation that Leslie has no conscience and would
therefore believe that Margaret would actually accept money to conceal the
murder of her own father. Leslie has to admit that Columbo is very good
at what he does.

Critique

Plot: Although Leslie's scheme is ingenious, the movie takes far
too long to set it up and wastes enormous amounts of time on two
flying sequences, which neither advance the plot nor show us anything
more about the Lt.'s character than that he doesn't like flying.
Although the scene in Dead Weight in which Gen. Hollister makes Columbo
seasick has been called a duplication of the flying sequences in this movie,
the fact is that the second instance works better, because Columbo
still manages to ask the murderer some serious questions. Here we just
get two scenes of the Lt. turning green. There are a lot more clues here
than in Prescription: Murder and the result is a much better movie, but
Columbo spots many "behavioral clues" in this movie, and as compared with
alibis and physical evidence, these clues simply do not work very well.
For example, much is made of Leslie's failure to inquire after the
husband on the phone and her sudden loss of consciousness after she has
kept such control before. The problem with these observations is that
they are not very interesting, and to the extent they are revealing,
that fact should have been obvious to Leslie as well as Columbo. By
contrast, one of the best clues is the caliber of the bullet; Columbo has
correctly inferred that Leslie used a .22 so as to leave no traces
in the room. This is a good clue, because there's nothing she could
have done about it (except by having the husband meet her elsewhere)
and because, even though we observe the murder, we cannot guess that
she has left this clue. On the other hand, any emotion she exhibits or
fails to exhibit is the result of a conscious decision on her part, and
although she is credited with being intelligent, she makes a number of poor
decisions relating to her behavior. The final clue, another trick,
is better than the trick pulled on Dr. Fleming, but still somewhat
questionable. Although the deception should not be as apparent to
Leslie as it should have been to Dr. Fleming, one may question how the
notion that she is lacking in conscience means that she cannot recognize
that Margaret is torturing her precisely because she thinks Leslie
killed Paul Williams. The fact that she might accept money to cover up a
murder does not mean that she would assume others would do the same; good
lawyers (and we are told she is one) should know how idiosyncratic
human nature is. Also, sad to say, someone neglected to include a line
about the money being marked, because without that evidence, it becomes
difficult to prove that the money given Margaret is the exact
money used for the ransom. All in all, however, this is a much better mystery
movie than Prescription: Murder was.

Acting: Both Peter Falk and Lee Grant are very good, and the
scenes between them are both realistic and interesting to watch. There is
a problem, however, with the character of Margaret. Up to the point
when Leslie puts the money in the safe, the movie has set up the usual
one-on-one confrontation between the detective and the murderer
that is a hallmark of Columbo, and it promises to be a fascinating match.
But suddenly an 800-pound gorilla is thrown into the fray, and the
entire framework changes. That is to say, although Margaret is a
believable, if annoying, character (and she is well played by
Patricia Mattick), she takes over the role of prime mover. After
Margaret enters the scene, it is she who seems to prod Columbo
forward when he gives up, she who convinces him that there was a
motive, and she who drives Leslie to
make the fatal mistake. Never again in the series' history would a
non-murderer command so much of the attention, and it detracts
from what otherwise would be a much more solid one-on-one
confrontation. The Columbo character's behavior is less serious than
in Prescription: Murder but still more serious than in most series episodes,
but the scene in the restaurant is troublesome; why does he keep pushing
food when Margaret has come to discuss a serious subject? His tone with
Leslie is excellent, even to the end, when he presents the
evidence in a straightforward manner and accepts her compliment, but does not
lord his victory over her.

Directing: Like the first movie, this one contains some innocuous
stunts, such as having Leslie apparently forget her husband's
briefcase, only to come back for it. But it also contains a few
heavy-handed directorial tricks, such as having Leslie's face superimposed over
the car, so that the headlights become her eyes. As previously noted,
the flying scenes both take too long, and the courtroom scene is
completely unbelievable (as Leslie listens to Michael Clark tell her there's
no news about Paul, she objects to a question we haven't even been
able to hear).

Other: The music is appropriate and complements the movie well.
The title is acceptable, considering that this was a movie not an
episode in a television show. Movie titles usually refer appropriately to the
subject of murder when that is their topic; whereas an episode of
Columbo can afford to drop the reference to murder (it's already
known) and concentrate on the murderer's profession or other relevant
factors. Future issues will comment on the episode titles and, when the
editor has a better suggestion, it will be included in the review.

A Brief History of Columbo

Although the Columbo Newsletter began last issue with a discussion
of Prescription: Murder, the concept of the rumpled Lieutenant has
its origins somewhat earlier than February 20, 1968. As detailed at
greater length in Mark Dawidziak's The Columbo Phile: A Casebook
(and in his article beginning on page 1 of this issue, containing information
not included in his book), the earliest traces can be found in a short
story that the mystery writing team of Richard Levinson and William Link
wrote for Alfred Hitchcock's Mystery Magazine. That story was called May
I Come In, but the magazine changed the title to Dear Corpus
Delecti. In it, the story included the alibi for the murder and ended
with a knock on the door; if the detective had entered, it would have
been Columbo.

The character of Columbo did appear in an adaptation of the story called
Enough Rope that was shown as a one-hour installment of The Chevy
Mystery Show on NBC during the summer of 1961. Enough Rope
featured character actor Bert Freed (later a regular on the tv series
Shane) as Columbo. Enough Rope was then rewritten as a full-length stage
play and the title changed to Prescription: Murder. The play went on tour
for twenty-five weeks in 1962 in the United States and Canada, with
famous actor Joseph Cotten as Dr. Ray Fleming and veteran character actor
Thomas Mitchell (Uncle Billy in It's a Wonderful Life, among many
other fine roles) as Lieutenant Columbo (see Mark Dawidziak's article
beginning on page 1 of this issue). Several years later, the stage
play was submitted to Universal Studios, which was looking for tv movie
projects. The result was Prescription: Murder, discussed at length
in the last issue. In 1971, Universal and NBC suggested a Columbo series
and, partly to make the idea palatable to Peter Falk, who had other
commitments on stage and in the movies, they proposed the idea of a rotating
"wheel" of two other programs, so that Columbo would appear only six times a
year in a ninety-minute format. Strangely, however, the network then
requested a second pilot of Columbo. Although surprised, Levinson
and Link agreed, drawing a script that was fleshed out by Dean
Hargrove. The result was the tv movie Ransom for a Dead Man, discussed at
length in this issue. Ransom for a Dead Man, like Prescription: Murder, was
a success critically and in the ratings. After it aired in March,
Levison and Link were again approached about the possibility of a Columbo
series within the context of a larger NBC mystery wheel. They agreed, and
The NBC Mystery Movie was born. Between April and September, 1971, Levinson,
Link, Falk and their crew created seven original ninety-minute Columbo episodes,
one more than originally promised. These were shown on Wednesday nights from
8:30 to 10:00, rotating with two other series, McCloud and McMillan and
Wife.

The NBC Mystery Movie proved so popular (it finished fourteenth overall
in the ratings that season) that NBC moved the wheel to Sunday
night and created an entirely new wheel of mystery programs for Wednesday
evenings. The NBC Wednesday Mystery Movie lasted two years and
consisted of Madigan, rotating first with Cool Million and Banacek, and then
with Tenafly, Faraday and Company, and The Snoop Sisters. Beginning in
January, 1974, this wheel was moved to Tuesday and renamed The NBC Tuesday Night
Mystery. During its second season, Columbo rotated on Sunday nights with
McCloud, McMillan and Wife and a new fourth show, Hec Ramsey. It was during
this season that the format began to vary, with some episodes of the
mystery wheel series running ninety minutes and some two hours. This
fluctuation would remain with Columbo through the end of its run in 1978.
McCloud and McMillan and Wife (in its last season, McMillan) would remain
with Columbo throughout its run on The NBC Sunday Mystery Movie, but
Hec Ramsey lasted only two seasons. It was replaced, respectively, by

Amy Prentiss (1974-1975),
McCoy (1975-1976),
Quincy, M.E. (1976) and
Lannigan's Rabbi (1977).

During the 1977-1978 television season,
NBC aired five new Columbo episodes on various nights, much in the way
Perry Mason movies would air years later. Columbo then moved to reruns
on The CBS Late Movie, where it ran on various nights of the week from
September, 1979 until September, 1985. During the 1980s, various
local stations also began showing Columbo in syndication, where it is
still available in some cities.

In February, 1989, after a hiatus of eleven years, Columbo
returned to network television with four new episodes on ABC's newly created
Monday Mystery Movie. Beginning with these new episodes, all new episodes
of Columbo (as well as the other mystery wheel elements) have been
two hours long. The other elements in this short-lived venture (it
survived only through the end of the 1990-1991 season) were B.L. Stryker
(both seasons), Gideon Oliver (first season only), Christine Cromwell
(second season only) and, marking its own return after a succesful run
from 1973 to 1978 and two subsequent tv movies, Kojak (second season only).
During the 1990-1991 season, the mystery wheel was moved to Saturday
night, where it had originally been intended to run, and it was renamed
The ABC Saturday Mystery. Since the fall of 1991, Universal has continued
to make, and ABC has continued to air, new episodes of Columbo on
various nights on an occasional basis, much like during the 1977-1978
season. Beginning in January, 1992, ABC made some advances on NBC's
powerhouse, Thursday night, by counter programming the episodes of Columbo
produced since 1989, at present totalling fourteen. The story continues.


By the Editor

... And One More Thing




The Columbo Newsletter

Did you ever wish there was a place where you could learn all there is to know
about Columbo, as well as discuss all the fine points of the show? Well, there is!
For the last four years, the Columbo Newsletter has provided quarterly episode reviews (from the first movie, Prescription: Murder to Double Exposure in the middle of third season, so far), fan discussion, episode guides, pictures and more. Last year, we featured excerpts from an interview with Columbo co-creator William Link, who talked at length about how the show came back in 1988 and where it's gone from there. Annual subscriptions are $12.00 (for four issues), $16.00 U.S. for international subscriptions (payable by cash or international check or money order). So, join the people who really like to talk Columbo. Oh, and one more thing . .We want to hear from you, too!

To subscribe, send your check or money order to:

Columbo Newsletter
P.O. Box 1703
Pittsburgh, PA 15230-1703
back issues:
2. Spring 1992

Next issue (Summer 1992) will focus on Murder by the Book, the first episode of the series, as well as other topics suggested by this episode and the conclusion of Mark Dawidziak's article about Thomas Mitchell.