Columbo Flashbacks

(with thanks to "The Imposter" and to David Sherman, for contributing Trivia)

On rare occasions, a "Columbo" script includes some direct reference to a prior episode. These provide both a sense of continuity, and a little fun for regular fans who may enjoy recognizing such bits of Columbo history.

How many of these "Columbo" flashbacks, footnotes and self-references did you spot?

1) Can you name two (2) episodes in which Columbo refers to the episode
Candidate For Crime?

Columbo alludes to Candidate For Crime in both of the episodes that immediately followed it in the original broadcast schedule.

In Double Exposure, Columbo says that he has been "working late on the Hayward case." There can be little doubt that Columbo means Nelson Hayward, the politician who murders his campaign manager in "Candidate For Crime," because "Double Exposure" was the next episode after "Candidate For Crime". This is an unusual acknowledgement that Columbo must handle multiple cases at the same time.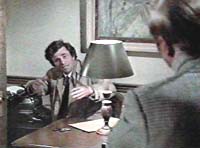 Then in the next episode, Publish Or Perish, Columbo tells killer Riley Greenleaf (Jack Cassidy) that he wants to write a book about his experiences as a policeman. As an example of his potential book material, Columbo describes the plot of "Candidate For Crime". Greenleaf responds, "Lieutenant, very frankly, I don't give a damn about your Senator or your story."

2) Can you name at least two (2) other episodes where Columbo discusses
plots of previous episodes?




In A Matter Of Honor (1976), Columbo talks about "Troubled Waters" (1975) with the local police chief in Mexico, referring to it modestly as the time he got seasick. Columbo learns that the case has made him a hero in Mexico, where all of the newspapers reported how he solved the murder at sea. Columbo's fame from "Troubled Waters" is probably what saves him from getting his car permanently confiscated after his traffic accident in A Matter Of Honor.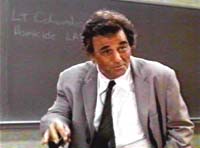 In Columbo Goes To College (1990), Columbo is a guest lecturer at a criminology class. He reminisces about the prior season's Agenda For Murder, decribing how he obtained a piece of chewing gum belonging to murder suspect Oscar Finch (Patrick McGoohan), which was matched to teeth-marks on a piece of cheese left at the murder scene.

Interestingly, Columbo Goes To College also has a student asking Columbo about his work with the FBI in "the Devlin case", using the name of the Irish poet who executed a gun merchant in The Conspirators (1978). However, this was not the same "Devlin case" portrayed in "The Conspirators", as the student goes on to describe a "Devlin case" involving a racetrack.

3) Can you name an episode where Columbo mentions a character who had
appeared once in "Columbo" many years earlier, during the 1970s?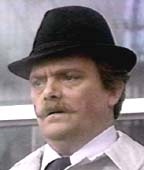 In Columbo Cries Wolf (1990), Columbo suspects the murder of a Los Angeles woman who failed to arrive at an important meeting in London. Columbo says he is investigating the disappearance as a favor to his old friend, Detective Chief Superintendent Durk of Scotland Yard (Dagger Of The Mind - 1972).

4) Which episode makes conspicuous use of a prior episode's title?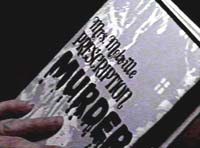 In Murder By The Book, Ken Franklin (Jack Cassidy) presents Lily LaSanka with an autographed Mrs Melville mystery novel. We see several close-ups of the book, bearing a title familiar to all Columbo fans -- Prescription: Murder.

5) Which episode features a painting from a prior episode?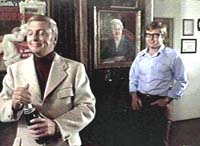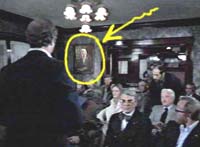 The portrait of Mrs Melville, prominently featured in Murder By The Book,
makes a cameo appearance on the back wall of the meeting room at the Sigma
Society in The Bye Bye Sky-High I.Q. Murder Case.

6) Even architecture has been known to make a comeback appearance in "Columbo". Which episode displays the opening street scene to An Exercise In Fatality (1974) on a TV monitor?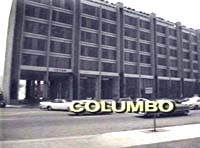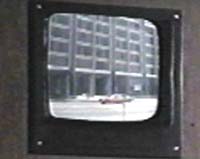 Death Lends A Hand (1971), near the beginning, in Brimmer's office.7) More recycled sets: The jazz club in "Etude In Black", reappeared as...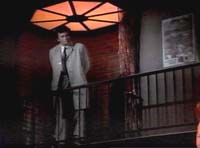 ...The basement of the wax museum in "Dagger of The Mind".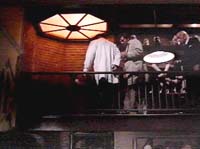 (Thanks to "The Imposter" for spotting this.)

8) Ken Franklin's house in "Murder By The Book", was also...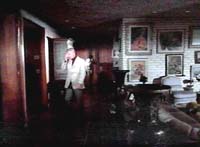 ...Eric Wagner's house in "The Most Crucial Game".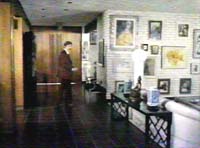 Perhaps Eric Wagner bought Franklin's place, after Franklin was convicted. Notice, Eric even kept at least one of Ken's paintings in the same spot (top-left corner of wall).
This same house (seen mainly from the back, by the pool) first appeared in "Prescription: Murder", as Susan Hudson's house.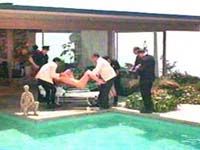 In reality, this house is rather famous among students of architecture. Called "Stahl House", also known as "Case Study House Number 22", it was designed by Pierre Koenig. Built in 1960 on an eagle's-nest site, at 1636 Woods Drive in the Hollywood Hills, this L-shaped house has transparent walls except facing the street, so that it commands a dramatic 270-degree view of Los Angeles. Although well above the price range of a starlet like Susan Hudson, it is a perfectly grandiose environment for a "Columbo" murderer.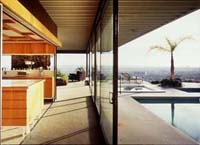 (Thanks to "The Imposter" for this, too.)

9) And sometimes prominent props are re-used. Note Paul Hanlon's distinctive fireplace fan in "Negative Reaction"...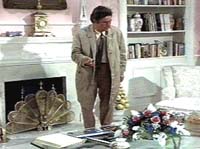 ...which was also in Nelson Heyward's house, in "Candidate For Crime".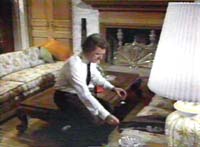 (Thanks again to "The Imposter".)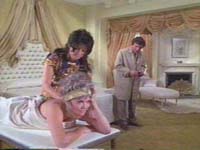 ...and also in Goldie's place in "Blueprint For Murder"!
10) Persistent Painting

In "Prescription: Murder", the reception room at Dr. Fleming's office features a distinctive painting, of trees and white houses with red roofs, which is prominent in several scenes.

This same painting later appears in "Suitable Framing", as part of the art collection sliced and stolen by Dale Kingston.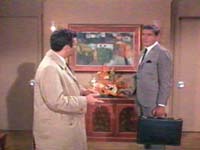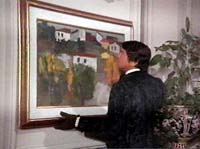 Thanks to Lissy Friedman for spotting both this "Flashback" and the "Goof"!
11) The stage and theatre where Dr. Kepple shows his movie with subliminal cuts in "Double Exposure", with its gold curtain and distinctive stairs at stage right …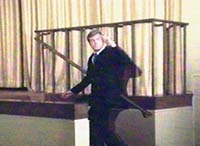 … is the same place where Dr. Mason delivers his motivational speech in "How To Dial A Murder". (Thanks to Bruce Citren for spotting this Flashback.)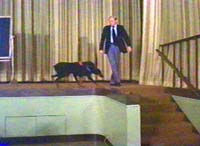 12) Sometimes "stock" footage will make a re-appearance. The film of two police cars racing to the scene of the second murder in "A Bird In The Hand", swerving around the corner by the liquor store…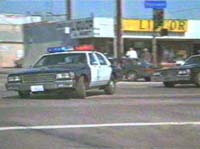 … is the same film seen in "No Time To Die", as police rush to rescue Melissa. These two episodes were originally broadcast during the same year, one after the other.
(Thanks to Debbie Allen for spotting this.)