"Inside Columbo's Car" Everything You Always Wanted To Know About The Peugeot 403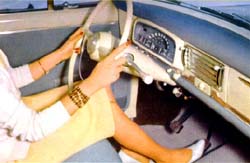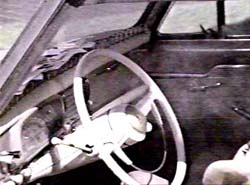 Picture from The Most Crucial Game

Columbo's car is a major "character" in the series, a supporting player almost as familiar and beloved as the Lieutenant himself.

Columbo's car, somewhat like his dog, is both a co-star and a sort of alter ego: battered and unbeautiful, eccentric and woeful looking, but still a classic.

The car is also one of Columbo's many devices of deception: murderers take one look at the car, and assume that only a fool would own such a relic. As always, they are wrong.

Like its human owner, the little Peugeot is a veteran -- it goes the distance and shows no signs of being ready to retire. Man and machine, both a little wrinkled, a little wheezy and out-of-shape, but still on the job and getting it done. Appearances can be misleading, and no one should underestimate this plucky pair, the cop or his car -- they seem a little quirky, but they will persist and prevail.

But for all of its importance to "Columbo", very little is known today about the automotive actor that plays this crucial, long-running "role". So, in order to shed more light on Columbo's mighty Peugeot, we have obtained some vintage original documentation about this vehicle. Here is what we found.

History

The Peugeot family, who still control the company that bears their name (the ads say it's prounounced "POOH-jo"), began as ironmongers. They sold a successful line of tools, coffee mills, umbrella spikes and corsetry before they got into the automobile business in 1876.

Early accomplishments for the Peugeot cars included the first journey across France by petrol car in 1891, the first sale of a petrol car to a private customer in France, and race-car victories at Paris-Rouen (1894), Paris-Bourdeaux (1895), and in America at the Indianapolis 500 (1913) and the Vanderbilt Cup (1915), among others.

In 1910 the company opened its plant at Sochaux, France, where the cars are still made today.

Columbo's car, the Peugeot 403, was introduced in 1955, selling in England for 1,129 pounds. It was an immediate best seller.

Most of the 403s were 4-door sedans, and a station wagon was also available.
The 2-door convertible was far more rare -- according to "Parade" magazine,
only 504 were manufactured in 1959. When Columbo claims that his car is
"very rare," that is the truth. No wonder information about the convertible is so hard to come by -- but it was basically the same car as the sedan.

The millionth Peugeot 403 left the factory in April, 1960, around the time that Columbo's car was made. The 403 was dropped in 1962, after 1,200,000
had been sold.

The 403 in Advertising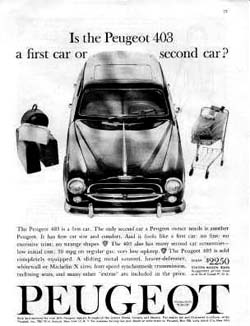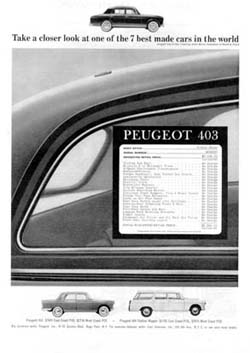 Columbo's car is a Peugeot model 403 Grande Luxe Cabriolet (convertible),
manufactured in Sochaux, France, by "SA Des Automobiles Peugeot". Different sources identify it as a 1959 or a 1960 -- probably there is one of each, including the original and the stand-in cars. This model was virtually unchanged between 1958 and 1965.


Here are some examples of how Peugeot advertised itself in those days:

"One of the 7 best made cars in the world," the 403 was marketed as a "Sportsedan". The 403 was not touted as extravagant looking or flamboyant -- rather, the ads boast of "no fins, no excessive trim, no strange shapes".

Yet even the hard-topped 4-door version of the 403 was distinguished by an exotic sliding sun roof -- this was a car for a family man who still had a sense of adventure!!

And at a base price of $2,250.00 (American, which included shipping costs and import taxes), this was a great investment in European style and substance.

According to one ad, "The Peugeot's nickname is The Indestructible.
What more is there to say?"

Exactly right

Details

Sales brochures illustrate Columbo's model, the Cabriolet, in a sporty red. Other colors sold were ivory, yellow, metallic blue, metallic green, light grey, metallic dark grey, and black.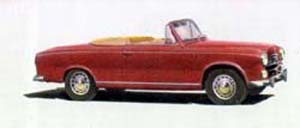 The car had an all leather interior, made in colors including buff, black, blue, or "coq de roche" red..

The brochures also call attention to the "automatic fan clutch, fog lamps and wheel embellishers."

Options

The 403 boasted such "extras" as available white-wall tires, heater-defroster,
padded dashboard, reclining seats, electric clock, windshield washers, trip
mileage counter and "an outside rear view mirror," as well as dual tone horns
(have we ever heard Columbo use that?), and dual padded sun visors.

However, Peugeot points out that "The one thing we don't supply with every
Peugeot is a radio. We don't make radios."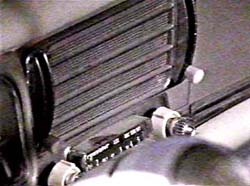 Picture from The Most Crucial Game

Ah, but Columbo's own vehicle did have a radio installed -- going that extra mile for a touch of luxury!

For a small added fee, Peugeot offered the "Jaeger Electro-Magnetic Clutch,"
described as follows:

The Jaeger Electro-Magnetic Clutch permits discontinuation of of the clutch
pedal while enabling the driver to select the desired gear ratios.

"The metal powder Jaeger clutch provides high starting flexibility and eliminates slippage, jerky operation and engine stalling. It ensures ease of driving, particularly in heavy traffic conditions as encountered in large cities."

It is unknown whether Columbo's car is equipped with this option, but if so, the Jaeger Clutch seems to no longer perform as advertised.

Another option, available for the first time in 1959, was the Indenor diesel engine.

Specifications

From an antique volume of "Glenn's Peugeot Repair and Tune-Up Guide -
Performance & Mechanical Specifications", we conclude with some technical specs for the immortal Columbo-mobile:

General Notes

"This French-built car is powered by a 4-cylinder, in-line engine of "I" head design, with hemispherical combustion chambers. It has a conventionally mounted camshaft, operating the valves by means of push rods and rocker arms. The cylinder sleeves are replaceable, wet-type liners. The transmission is a four-forward speed unit, synchronized in all forward speeds. The drive is
through a torque tube, ending in an unusual worm-screw and worm-wheel type differential."

Curb weight: 2,420 lbs

Dimensions
length: 176.0 in
width: 65.8 in
height: 59.5 in
wheelbase:104.7 in

Tire size (mm): 165-380

Engine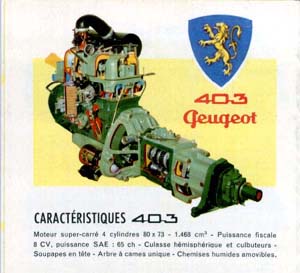 Displacement: 89.5 cu in
1468 cc

Horsepower: 58 hp @ 4900 rpm

Torque: 74.5 ft.lb. @ 2500 rpm

10.3 kg/m @ 2500 rpm

Performance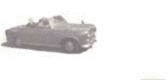 Top speed: 80.8 mph

Acceleration:

0-30 mph 5.4 sec
0-40 mph 9.5 sec
0-50 mph 14.1 sec
0-60 mph 20.5 sec
0-70 mph 34.0 sec

Standing, 1/4 mi: 21.7 sec, speed at end 61 mph

Steering

Rack-and-pinion type

Turning circle: 31 feet

Front suspension

Designed about the familiar long-and-short arm suspension, the 403 uses a transverse leaf-type spring in place of the lower arms. Toe-in is the only front end angle that is adjustable.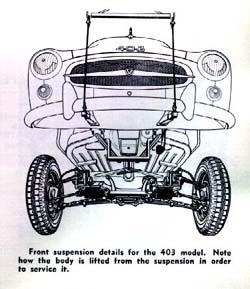 NOTE!!: The body of the 403 has to be lifted from the suspension in order to service it.

Brakes

Conventional drum-type with mechanically-actuated linkage at the rear wheels for the parking brakes. The front wheel brakes are actuated by two single-piston hydraulic cylinders per wheel; the rear units have a double-piston cylinder arrangement.

Electrical system

12 volts

"Peugeot uses Ducellier and Paris-Rhone electrical units. Unfortunately very few specifications are available for servicing these units. In fact the regulators are sealed and no adjustments are possible."

The manual gives this advice about the 403's electrical system:

"The suggestion is to replace the regulator in the event of trouble."

Fuel

Tank capacity: 13.3 gal (U.S.)
11 gal (Imp.)

Mileage (avg): 23 mpg city, 27 mph hwy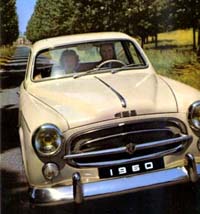 For more information, see The Car Topless and "It Could Use A Coat Of Paint": Columbo's Car Crashes and Car Problems