Columbo Clocks & Watches

"Columbo" fans may notice a certain preoccupation with clocks and watches in "Columbo". They seem to be everywhere. To some extent this is natural because most murders in "Columbo" are carefully planned, with sometimes elaborate alibis to fake the time of death or to fake the time when the killer was seen elsewhere. Sometimes the time element is key because the killer has to work within a very specific time period before returning to the scene of his alibi.

But other times, the clock and watches are just there.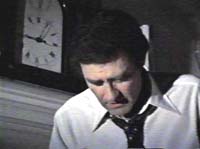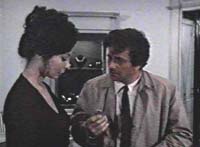 A Friend In Deed

I broke this a couple weeks ago, I've been carrying it around. This is a very good watch, only 5 years old. Waterproof and shockproof. (Woman says, hmm, 7 jewels...says bands start at 25 dollars...) "No I don't want a watch, just the band."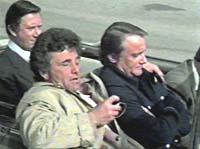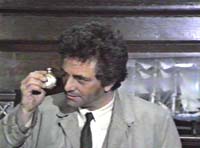 Last Salute To The Commodore

Columbo checks his watch in the scene with 4 men crammed into the Peugeot. The watch is again in Columbo's pocket, but it is a pocket watch, not a wrist watch. Still hasn't got the band replaced?

Later it's explained: Columbo figures, with Vaughn's beautiful watch, why would
he ask the Guard (John Finnegan) the time while leaving the island -- "He's got
a drugstore watch" -- but to establish an alibi, to make sure the guard remembers...The Time.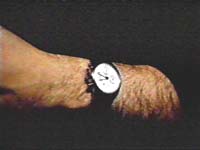 Old Fashioned Murder

One of Columbo's own earlier watches, comes in for some comment . He paid $30 for that one. First he says the victim's expensive watch has the wrong date, and that Columbo's own $30 watch is right, so "It shows ya money doesn't buy quality." Then one of the other cops tells him he has the date wrong, and without-missing-a-beat Columbo shifts to "Well what do you expect for 30 dollars!"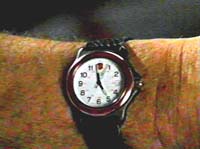 Undercover

We get a close-up of Columbo's watch -- it's a Swiss Army model with black band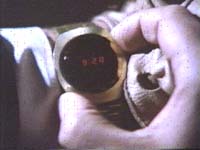 Playback

Harold Van Wyck's digital watch created by Midas Electronics. Harold informs
Columbo "you remember the time better if you see it printed".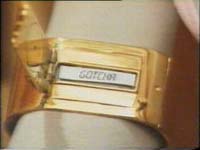 Columbo Cries Wolf

Playboy Sean Brantley and business partner Diane Hunter had these Pager watches custom made so they could always be in contact with each other.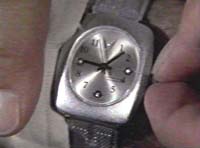 Fade In To Murder

Drugged "Gofer's" expensive watch re-set (mistake!) by Shatner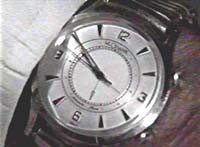 Now You See Him

Master magician the great Santini's watch.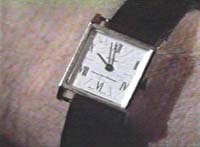 A Deadly State Of Mind

George Hamilton's watch as he checks it in that scene where Columbo bounces his thoughts and theories around at the social gathering.Hamilton is getting ready to slip away and make his phone call to Leslie Ann Warren, to give her the post-hypnotic suggestion so she'll jump off the balcony. Hamilton has already told Leslie Ann to expect a telephone call at 10 o'clock. Hence the watch-checking (the vidcap shows 9:58).