A Columbo Fan Remembers

It was 1985. Peter Falk was starring in the play "Glengarry Glenross" in San
Francisco. I have been a Columbo fan since its inception. I went to the play and took a small but special gift for Peter, incase I was lucky enough to get a glimpse of him afterward. Mind you, I scoped out the back exit of the theatre and had a plan. I brought for him, a one of a kind "stained glass" style piece of abstract artwork that had been created "just" for him by a local artist / friend of mine. I also bought a blank greeting card that inside I wrote, blathering on and on about how much I loved Columbo...etc.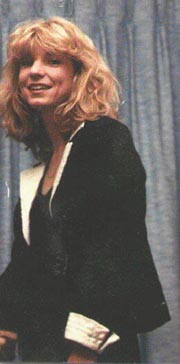 After the play, I stationed myself behind the theatre at the exit, right at the back door. A "Page" came out and saw me. I asked if I could come inside for just a minute so I could give Peter the gift and card. As expected, I was turned down. But the Page said he would see that Peter got my present. I was disappointed but happy to know at least he would get what I had for him. But I hung around outside anyway. A couple came back to the same area with a photograph they were hoping to have autographed. Keep in mind, "I'm" right outside the door (the perfect spot) so they had to hang back abit several feet away. We started to chat, and suddenly the back door opened and out stepped Peter Falk. He had my present in his hand still unopened. The little landing I was standing on was quite small so Peter was really close to me. I was so excited you would have thought I was 15 years old not 33, but I managed to stay cool. After all, it was the Lieutenant himself! The Ultimate in "Cool!" ( not to mention amazingly handsome in person).

This is what impressed me above all. Peter Falk had been given my gift, had
NOT opened it, and "specifically" came outside to find who had brought it and
then open it. (With ME!) How thoughtful is THAT? He was INCREDIBLY nice,
very unpretentious and very very sweet to me. He was SO unassuming that he actually thought that the "greeting card" was the GIFT! He was in the process of thanking me for all my compliments and I politely told him, that the large envelope in his hand was the real present. It was a such a cute moment! Then he noticed the other couple standing just below us hoping for an autograph. (Get this)... I actually whispered to Peter and asked him if I could call him "Lieutenant" ... he smiled and said "Sure." Then I asked him if he would mind taking care of the other people first .. I wanted him to myself when he opened the present.

He obliged, (another example of his thoughtfulness) speaking briefly with and
signing the couples' picture. Then they were gone and I had him to myself
again. We spent several minutes there while he admired the artwork and asked
me about how it was made, etc. Then he told me that HE was an artist too. I
didn't know that at the time, but read it later. About 5 minutes of conversation had ensued. It was incredibly special and I "swear" I was looking at him and I saw him "in" his trenchcoat! (He was actually wearing a pull over sweater at the time.) He thanked me several times and when I was leaving, I gave him a kiss on his right cheek. I didn't ask for an autograph, I didn't want to ask for anything from him; I felt that he had already been so generous just to take the time that he did. In the 1980's I worked as "atmosphere" in movies, so I have had the pleasure of
meeting quite a few celebrities in my lifetime; including Diane Keaton, Alan
Arkin, Carol Burnett, Charles Martin Smith and Dick Cavett.

There is no question in my mind that Peter Falk is by far the most polite, sincere, unpretentious, sweet and generous (with his time) celebrity I have ever met. To this day, I continue to treasure those intimate moments where it was just me and Lt. Columbo alone... on a small landing on a stairwell in San Francisco.

Alexis Jenkins
Marin County, California