Guest Star Trivia

Antony Alda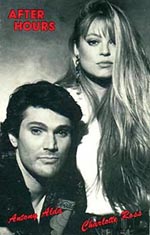 Mario, the young Italian waiter in "Murder Under Glass", is played by Antony Alda – the real-life brother of Alan Alda (Hawkeye Pierce in M*A*S*H).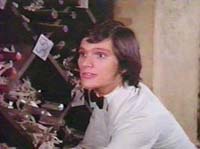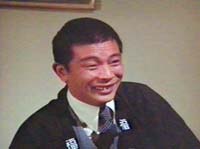 Antony once appeared with both his brother Alan, and their father, veteran actor Robert Alda, in an episode of M*A*S*H. Interestingly, "Murder Under Glass" also features Mako, the Japanese actor whose face is familiar to all viewers of M*A*S*H as a recurrent supporting player.
Fans of the soap "Days Of Our Lives" will remember Antony as Johnny Corelli (1990-1991).
Antony is also a songwriter, seen here in collaboration with singer Charlotte Ross.
Thanks to "Eddie Kane" for information about Antony Alda.
Joyce Jillson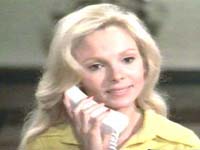 Joyce Jillson played Joan, the victim's fiancée, in "Any Old Port In A Storm".
If you think that her name seems familiar, it might be because you have seen her astrology column countless times in your daily newspaper.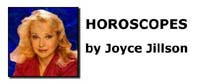 Joyce enjoyed a minor career in acting, which included the TV series "Peyton Place" and a few cheesy movies, before she went on to greater fame and fortune as the "Astrologer To The Stars".
Her notoriety reached a peak in the 1980s, when it was revealed that Joyce was personal astrologer to Ronald and Nancy Reagan, and that her astrological advice was the basis for many decisions in the White House.
Joyce is also author of a book called "The Fine Art of Flirting".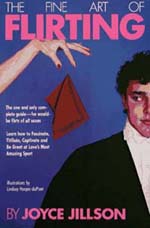 Thanks to Harsha S. Narayan for spotting Joyce Jillson.
Columbo vs James Bond Super Villains
At least four "Columbo" killers have also been villains in James Bond movies.
Donald Pleasence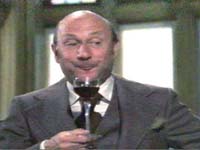 Known to all "Columbo" fans as Adrian Carsini in "Any Old Port In A Storm" (1973, as the murderer of Joyce Jillson's fiancée), Donald Pleasence played a number of menacing characters in his career, including James Bond's strikingly evil nemesis, Blofeld, in "You Only Live Twice" (1967).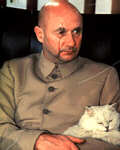 Honor Blackman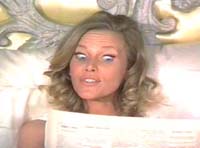 Honor Blackman is so convincing as classy Shakespearean stage actress Lilian Stanhope in "Dagger Of The Mind" (1972), that it seems almost impossible for the same actress to have portrayed one of James Bond's earliest female foes – Pussy Galore, the leather-clad star of Pussy Galore's Flying Circus in "Goldfinger" (1964).

Louis Jourdan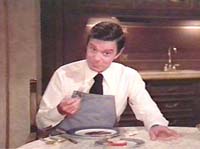 Louis Jourdan (Paul Gerard in "Murder Under Glass", 1977) played super villain Kamal Khan in "Octopussy" (1983), regarded by many Bond aficionados as the greatest James Bond movie of all time.

Patrick Bauchau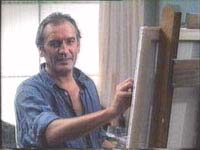 Before he played artist Max Barsini in "Murder: A Self Portrait" (1989), Patrick Bauchau was a secondary villain in the Bond film "A View To A Kill" (1985), as Scarpine, security chief to the criminal mastermind Max Zorin (Christopher Walken).
Thanks to Joe Thomas for his contributions.
Arlene Martel
In "The Greenhouse Jungle", Tony Goodland's mistress is played by Arlene Martel, as a rather air-headed bimbo who answers the phone with "Whom?".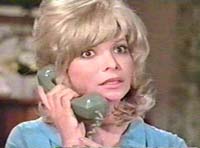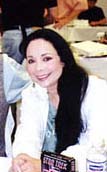 Among "Star Trek" fans, Arlene is still an important cult figure, for her portrayal of a far more aloof love interest. She was "T'Pring", Spock's intended Vulcan mate, in the classic episode "Amok Time".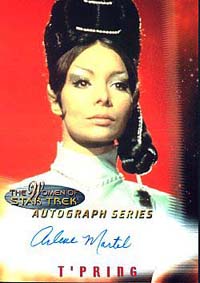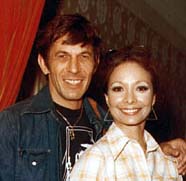 Arlene still appears at "Star Trek" conventions.

Her "Columbo" roles also included the saleswoman in "A Friend In Deed", and a more elusive appearance, credited as Tanya Baker, in "Double Exposure".
Marcia Wallace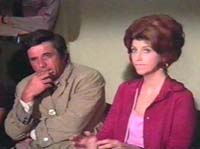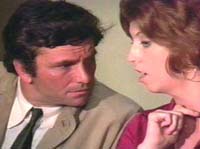 According to official credits, Marcia Wallace (Carol on "The Bob Newhart Show," voice of Mrs Krabappel on "The Simpsons") had a role in "Murder By The Book" -- as "Woman".

Careful scrutiny fails to reveal Marcia in that episode. However, she does appear in another first-season episode, without credit -- "Lady In Waiting".

Marcia sits next to Columbo at the inquest, and shares her prediction that Beth will go free, based on astrology: "Jupiter and Venus are in good aspect with Pluto."

The credits mix-up might be a by-product of the crazed schedule during the first season of "Columbo", with multiple episodes in various stages of production at once.