Columbo Meets Sinatra
Courtesy of the Steve Baratta Collection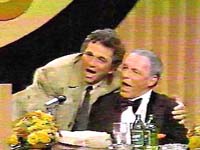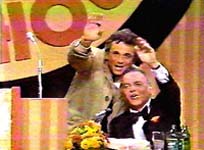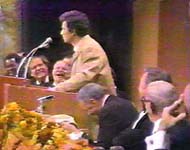 At the "Dean Martin Celebrity Roast of Frank Sinatra" in the 1970s, Columbo makes a surprise and uncredited appearance.

Other guests include:

Ronald Reagan, George Burns, Orson Welles, Jimmy Stewart, Gene Kelly

Read on as Columbo reveals his wife's first name

Dean Martin explains that Sinatra had recently borrowed Columbo's raincoat to sling over his shoulder on an album cover ("Pal Joey"), so Sinatra invited Columbo to attend the roast.

Columbo appears from the audience with his usual bashful hand-waving, walks to the podium and asks Dean Martin "one quick question", about Dean's tuxedo shoes -- "They're not rented, are they?" Columbo presents Sinatra with a pan of Mrs Columbo's home-made lasagna, and warns him not to clean the pan with steel-wool -- it's Teflon.

He proudly explains that his wife's family knows all about Show Business -- her cousin Dominic, for example, from Hoboken. "He knows show business, he knows Broadway...well, he sold barber supplies in the Times Square area for 17 years. This is his comb right here...it glows in the dark."

As usual when meeting a celebrity, Columbo asks for an autograph. After pestering Sinatra with different instructions on how to address the autograph to his wife and himself, Columbo finally tells him " even better, just put -- To ROSE."

Sinatra waves to Mrs Columbo, who is watching on television -- "Hi, Rosie!" -- and Columbo closes by persuading Sinatra to join him in singing a few bars of "Bye-Bye Blackbird".

It is an extraordinary moment in television: Probably Peter Falk's one and only appearance as Columbo outside "Columbo", and apparently the only time Columbo ever reveals his wife's first name.