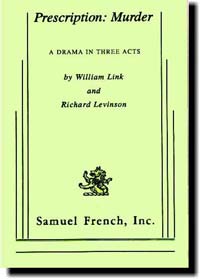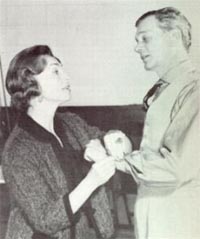 Agnes Moorehead as "Claire Flemming" and Joseph Cotten as "Dr. Roy Flemming."
Created By William Link and Richard Levinson
Presented by Paul Gregory in association with Amy Lynn
Directed by Myles Eason
Costumes: Don Loper
Scenery and Lighting: James Trittipo
Hair Stylist: Jack Mei Ling
Production Associate: John Huffman
General Manager: Robert Rapport
Press: Karl Bernstein, Frank Liberman, and John L. Toohey
Stage Managers: Irving Sudrow and Raymond Parker

Opened at the Curran Theatre in San Francisco on Jan. 15, 1962.
Closed at the Shubert in Boston on May 26, 1962.

CAST:

LUCILLE FENTON (Miss Petrie)
JOSEPH COTTEN (Dr. Roy Flemming)
AGNES MOOREHEAD (Claire Flemming)
PATRICIA MEDINA (Susan Hudson)
THOMAS MITCHELL (Lieutenant Columbo)
HOWARD WIERUM (Dave Gordon)
RALEIGH DAVIDSON (Delivery Boy)

A Mystery in three acts and eight scenes. The action takes place in New York City.

In 1962, Richard Levinson and William Link produced a play called "Prescription:Murder". It was an adaptation of their earlier television screenplay, "Enough Rope", the humble one-hour episode of "The Chevy Mystery Show" which had first introduced a character named Lieutenant Columbo, played by Bert Freed.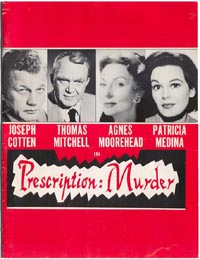 The play starred Oscar-winning actor Thomas Mitchell (Gone With The Wind, It's A Wonderful Life) as Columbo. Mitchell was 70 years old.

The part of Claire Flemming, the victim, was played by Agnes Moorehead
(Endora on Bewitched). The killer's mistress/accomplice, Susan Hudson, was played by Patricia Medina (who can be seen in "Abbott and Costello in the Foreign Legion" and "Snow White and The Three Stooges").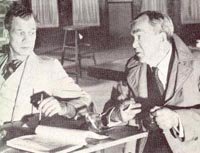 Joseph Cotten as "Dr. Roy Flemming" and Thomas Mitchell as "Lieutenant Columbo."

The authors initially believed that the "star" of the play was the killer, "Dr Roy
Flemming", played by Joseph Cotton (Citizen Kane), and that the Columbo character was secondary. But as the play toured on its way to Broadway, through cities including Detroit and Fargo, it became apparent that the audiences all loved Columbo.

The play was first performed at the Curran Theatre in San Francisco on January 2, 1962, and ran on tour for 25 weeks, gathering weak reviews but enthusiastic audiences. "Prescription: Murder" never made it to Broadway -- Thomas Mitchell became ill and died on December 16, 1962. Columbo was his final role.

Today, the script for this play remains a fascinating historical artifact, with its
early insights to the creation of "Columbo".

The play was set in New York City. The script specifies that Columbo wears "an
undistinguished brown suit, an old topcoat, and a battered felt hat throughout the
play". Here is the rest of the character's description from the script:

"LIEUTENANT COLUMBO: A rumpled police detective of indeterminate age. He seems to be bumbling and vague, with an overly apologetic, almost deferential manner. This masks an innate shrewdness, however, a foxy knowledge of human nature."

The script itself is clearly recognizable as the "Prescription: Murder" that Link
and Levinson later adapted as the original television movie starring Peter Falk.
Most of the dialog is the same, but some scenes were added for television and a few other changes are evident.

Here's an early Columbo-ism that never made it to television:

COLUMBO: "That's the trouble with me -- I'm always forgetting things...I left my wife in a bowling alley last week. I was halfway down the street before I remembered she was in the ladies' room."

The play's ending is distinctly different from the familiar
TV version. Fans will recall how Columbo cracks this one on TV: Columbo stages a fake suicide of Susan, the killer's girlfriend, then provokes the killer into bragging that he never cared about Susan anyhow.

Dr Fleming even suggests that if she hadn't killed herself she might have found herself the victim of some other convenient...accident.

But Columbo has arranged for Susan to be hiding nearby, so she can hear how Fleming really feels about her, that she was just a plaything and a tool to accomplish his murder plot. Susan is ready to testify and will put the doctor in prison.In the play, Columbo's actual lines are almost identical, but Columbo is playing a different game and the murder is solved a totally different way: Susan is not hiding nearby, but has been detoured by cops so that Columbo can use the fake suicide to provoke guilt and remorse in Dr. Flemming.

The killer, perhaps because the play intended him as the real "star", reveals a certain inner decency: Susan was his true love, and he is so shattered by her death that he insists on going to headquarters with Columbo to make a full confession:

"I want to talk; I want somebody to listen. And when you're in this mood you need a priest -- or a cop. You're available. (Columbo shrugs, showing no elation.)...You were always available, weren't you?"

Years later, when Link and Levinson heard that Universal was looking for material for TV movie projects, they dusted off this script. "Columbo" was on its way, and a legend was born.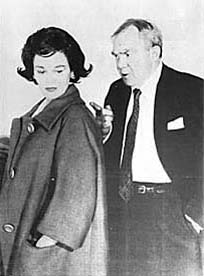 Thanks to Yuko Kokubu for the new Pictures.