William Link & Richard Levinson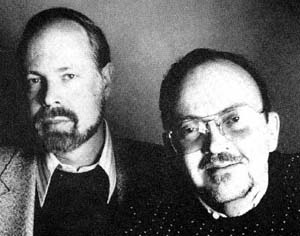 Levinson, Richard, and William Link (U.S. TV writers and producers;

Levinson (1933-1987)

Link (1933-)

Best friends since the first day of junior high school, Philadelphia area natives
Levinson and Link parlayed mutual passions for mysteries, magic, and writing into the most honored and productive collaboration in TV history. Best known as the creators of Columbo, Levinson and Link were equally at home in genre mystery and issue-oriented heavy drama, producing such acclaimed TV movies as The Whole World Is Watching, about student unrest; Crisis at Central High, about race relations; and The Storyteller, about the effects of TV violence. They never lost their love for the genre, however, going back to it time and again.

More than any other writers in the medium, Levinson and Link were committed to the classical aspects of the mystery story: the clues and the solutions. This was true in the case of the inverted mysteries typified by "Columbo" as well as the classic whodunits depicted on Murder, She Wrote, a long-running hit they created with Peter S. Fisher.

The two men wrote together in the same room, with Levinson always at the typewriter and Link pacing. "We weren't collaborators," Link said at his partner's death, "we were brothers." Since then, Link has served as supervising producer of the ABC Mystery Movie and co-creator of the series Over My Dead Body Levinson and Link detailed their career in a 1981 book entitled Stay Tuned: An Inside Look at the Making of Prime Time Television. (See also Burke's Law; Guilty conscience; Mannix; Murder by Natural Causes; Ellery Queen (character); Rehearsal for Murder; Tenafly.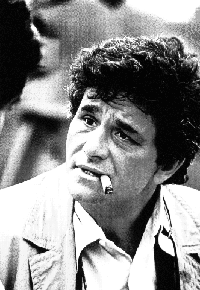 Picture sent by Nico Trenti - from France
For more than 20 years, a bad-shaven character, who always wears a raincoat and a creased suit, with a cigar, often extinguished, an apathetic dog and an asthmatic 403, has never left our TV-screens (or just for a little time). Columbo phenomen is unique on TV, and Columbo, the LAPD lieutnant, now belongs to the police family, just like Sherlock Holmes, Hercule Poirot, Miss Marple, Philip Marlowe or the lawyer Perry Mason...Columbo's genesis dated from march 1960, when Alfred Hitchcock's Mystery Magazine published a short story, written by two old friends, W. Link and R. Levinson. First entitled May I come in? by the writers, it was then entitled Dear corpus delecti. The policeman, called lieutnant Fisher,
was a little man, who looked insignificant. Columbo was taking shape. "We recalled the policeman Petrovitch in Dotsto´evski's Crime and Punishment. This character, even if he looked quite humble, was in fact really intimidating. He knew how to catch off the killers' guard", explained William Link.


First of all, the plot in Columbo's episode don't look the same as in other detective novels. The question you wonder is not "Who killed ?", but "How will the policeman manage to catch the murderer ?". This kind of plot was created by Richard Austin Freeman (1862-1943), an english writer. He wrote several novels in which you know who is the murderer from the beginning (The Singing Bones, 1912). Roy Vickers (1888-1965) also write that kind of novels (Department of dead ends).

From Prescription Murder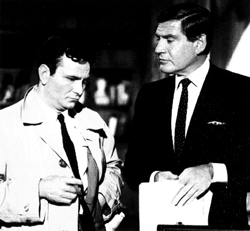 Picture sent by Nico Trenti - from France

In Columbo's episodes, the plot has always the same structure. First scene: the murder. Second scene: the police discover the murder and start its investigations. Since the credit titles, 15 or 20 minutes have gone. Then Columbo appears: he tries to clear a way to see the body, but he doesn't seem to look for details attending to the murder: he looks for a pen, a match for his cigar, an ashtray to break his egg... .Next passage: Columbo tries to catch the murderer. During that passage, the televiewer tries to guess what mistake the murderer has made: thanks to this little detail, Columbo will manage to catch the murderer. If the series has not invented the "inverted-plot" (you know the murderer from the beginning), it has used it on the best way, thanks to such script-writers as Steven Bochco, Dean Hargrove, Stephen J. Cannell, or
Peter S. Fisher. The directors were also bright (Harvey hart, Leo Penn, Alf Kjellin, Ted Post, and young directors such as Jeannot Swarc, Steven Spielber,
Jonathan Demme...)But, even if the directors and the script-writers were bright, how did the character of Columbo manage to become so popular? Columbo doesn't look attractive: he's little, slovenly, he looks nearly merciful. He's an ordinary policeman, a bit seedy-looking: he represents the average American. But he's so resourceful, stubborn, and really perspicacious.

According to Vincent Price, TV-announcer and actor (He played in ep. "Lovely but Lethal"), the character of Columbo is "really simple and also redoubtable and complex.". This contradiction has made the character so fascinating.Moreover, Columbo is fascinating because the televiewer knows nearly nothing about his private life. Columbo is married, but you never see his wife, even if he mention her often. He says he has a lot of familial relationships, but you don't know if they really exist or if he invents them progressively. You never see him at home or at the office. You even don't know his firstname! Columbo is ambiguous in the extreme.Another reason why the series is so popular is that murderers
always belong to high-society. "The murderer is always very rich and arrogant. That's why the passage when Columbo try to catch him was so pleasant for the televiewers", said Steven Bochco. Peter Falk added, "It's obvious that people like seing the murderers bite the dust".

Finally, the casting is wonderful. Peter Falk, of course, has created one of the most original character on TV. And a lot of stars accepted to play the murderer, which made the confrontation between them and Columbo more entertaining. "NBC wanted known actors", explained Richard Levinson, "Columbo was considered as prestigious series. You'd be surprised to know the names of the actors who wanted to play in the series when it had a great succes." Anne Baxter, Laurence Harvey, Donald Pleasance, Jose Ferrer, Robert Vaughn, Oscar Werner, Janet Leigh, Ruth Gordon, George Hamilton, Ray Milland, Ida
Lupino, John Cassavetes, Ben Gazzara and Gena Rowland played in Columbo.
"it's pleasant to play murderers. And don't forget that the murderer monopolize the cameras during the first 20 minutes, before Columbo's entrance. Like Alfred Hitchcock presents, Columbo was a series which presented the actors", explained Roddy McDowall, who played in episode "Short Fuse".

Lastly, there is another great explanation of Columbo's success: it overturned all the conventions about TV-series. No violent passages, no sex, but complex plots, which compel the viewer to be attentive; dialogues are dense, with a lot of argumentations; moreover, Columbo is really an antihero: insignificant, without energy, easily out of breath. A priori, it could be a flop! But Columbo's success is international, and Columbo is now an hero in a lot of countries