"Columbo – the Complete First and 2nd Season"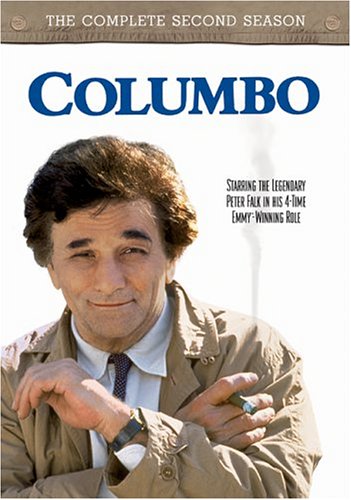 At last, the news that "Columbo" fans have been waiting for: Universal has begun releasing "Columbo" on DVD, for fans in North America.
"Columbo: The Complete First Season" is a 5-disc DVD box set, including the 2 "pilot" movies as well as the seven regular episodes of Season One.
The release date is September 7, 2004. Pre-orders are already being accepted at Universal's web site ($39.98) and at Amazon.com ($41.99).
What a bargain! This is about $4.50 per episode, compared to commercial VHS releases at 20 dollars per episode. The regular retail price will be $59.98.
Sorry, there will be no "bonus features", such as Peter Falk interviews, with this release. We hope to see "extras" for future seasons, if this release is a big success.
These DVDs are Region 1, intended to play in the USA and Canada. They may play elsewhere, if you have the right kind of region-free DVD player.
Also, a fan reports that the same DVDs will be released in Holland, so there may be hope for Europe (Region 2) fans as well.
These DVDs feature English Dolby Digital 2.0 (mono) audio, and can be viewed with French or Spanish subtitles.
See details at:
http://homevideo.universalstudios.com/details.php?childId=34881
We hope that all "Columbo" fans will want to buy and enjoy this DVD set, and that Universal will be encouraged to go ahead and release the rest of the series.
Columbo on DVD - UK only
This is the first DVD release of Columbo anywhere in the world.

DVD Volume 1

1. Prescription: Murder
2. Fade in to Murder
3. Double Shock

Cat no: 781952

Released: 9th April 2001



DVD Volume 2

1. Suitable for Framing
2. Etude in Black
3. Candidate for Crime

Cat no: 0784592
Released: 1st October 2001

www.play.com
No North American/NTSC DVD release is planned.
Note:
The British DVDs will not work in the USA -- not just because of the PAL/NTSC incompatibility, but because of the "regional coding" used on DVDs.
Other Columbo DVD's
Here are lists of first DVD episodes available in Japan.
1, Ransom for a dead man
2. Prescription Murder
3, Murder by the Book
4, Death Lends a hand
5,Dead Weight
6 Suitable for framing
7. Lady in Waiting
8. Short Fuse
We have been informed that another 8 episodes are released, in Japan, on DVD this fall.