COLUMBO Art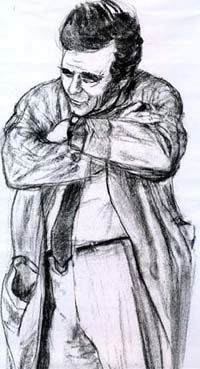 Have you ever wondered what Columbo looks like in the mind of the man who embodies him, Peter Falk?
As many of you know, drawing is Peter Falk's hobby and passion. He usually draws what he calls "naked women", but occasionally he has been moved to put his personal image of Columbo down on paper.

Combining the skills of a thoughtful actor and a talented artist, Peter Falk created this charcoal drawing, showing us Lieutenant Columbo exactly as he appears to the person who knows him best, Peter Falk himself.

This remarkable sketch, the dream of any fan or serious collector, signed by Peter Falk, was made available at auction on Ebay, in March, 2000, as a one-time-only opportunity. The winning bid was about $1,000.00.
Similar drawings of Columbo by Peter Falk, either original or reproduced as high quality lithographs, are found only rarely, and most often as part of a charitable event or a theatrical exhibit. Sorry, we cannot tell you where to buy one.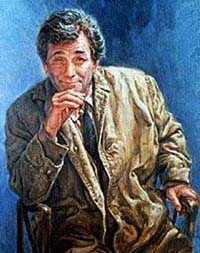 Many fans write to us, asking about the present location of this memorable Columbo painting, which appeared at the end of "Columbo: Murder, A Self Portrait". We have no idea where the painting is now – perhaps it was snagged by Peter Falk, an art aficionado himself.
In "Murder, A Self Portrait", the painting was done by the killer, Max Barsini (Patrick Bauchau) over the course of several sittings with Columbo. Finally, after Columbo announces that the case is solved and that Barsini will be charged with murder, the artist dramatically unveils his portrait.
Barsini begins by warning Columbo that he might not like what the portrait reveals:
Barsini: "Your policeman's soul!...Dark, tormented, pitiless!...The policeman unmasked!...You may be shocked!"
Columbo: "It's very nice, Sir. I think you've been teasing me...Do you think I could show that to Mrs Columbo?"
According to the show's credits, the painting was created by artist Jaroslav Gebr. Jaroslav Gebr also did the title artwork for the movie "The Sting", the paintings for the pilot episode of "Night Gallery" and, more recently, the artwork for the movie "The Sixth Sense".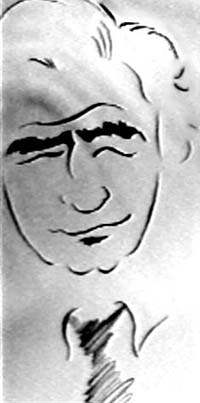 For a short time in 1999, the Fox Family channel used this stylized rendition of Columbo as part of its opening for the Sunday night broadcasts of "Columbo" movies.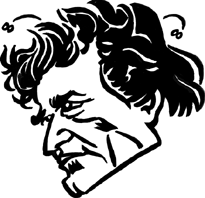 From "Caricature Zone", a free clip-art web site. Note the flies buzzing around Columbo's head.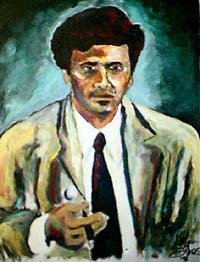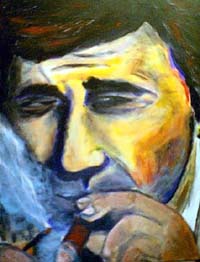 These impressionistic images of Columbo were created by Nathan Sikes, a talented "Columbo" fan and a longtime visitor to this site.
This photo was sent to us by a fan in France, who goes by the name "Columbo". This rendering of Columbo, based on a photo from a book, was created for him by his friend, Benedicte, in about 8 or 9 hours.
This unique view of Patrick McGoohan was created by Franck Vandystadt, webmaster of the French Columbo Site, "Inculpe de Muertre", http://www.multimania.com/columbomania/.
The left side is a sketch seen in "Identity Crisis" (1975), depicting "Steinmetz", alter ego of killer Nelson Brenner (Patrick McGoohan), in disguise as an older man. The right side is from "Ashes To Ashes" (1998), showing Prince as played by Patrick McGoohan in 1998.
Franck's composite wonderfully illustrates his observation that, in the course of 23 years, McGoohan's character has essentially evolved into Steinmetz.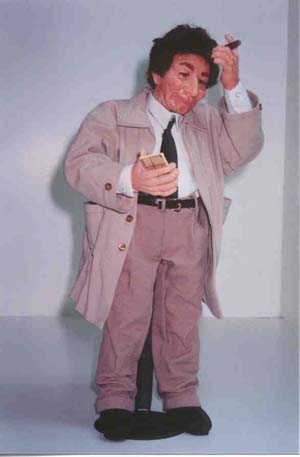 This one of a kind doll, of Columbo is made out of super sculpey. No mold is used, but is all hand sculpted. Columbo stands 14 1/2" tall and has hand painted antique glass eyes. The head, hands and feet are sculpted and the body is a cloth over a wire armature. His hair is hand dyed mohair. He is dressed in a white shirt, khaki slacks, leather belt, black tie, brown suede shoes and, of course, the infamous trench coat. He comes with the stand,
cigar in hand and note pad. sculpted by Robert D. Miller.