In 1972, MCA Publishing started issuing a series of Columbo Paperback books.
It was not the first such tie-in arrangment ( books inspired by a TV show or movie ) Printed by the Popular Library (now controlled by Warner Books), the six original Columbo titles were:

1. Columbo (1972) by Alfred Lawrence. An original novel (titled "A Christmas Killing" when published by Star books in great Britain), this case finds Lieutenant Columbo trying to solve the murder of department store executive Shirley Bell.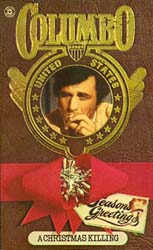 2. The Dean's Death (1975) by Alfred Lawrence. Adapted from Howard Berk's
By Dawn's Early Light an episode aired during the fourth season. The story has little in common, though. This novel is about a college president who kills a dean who knows about his affair with a beautiful coed.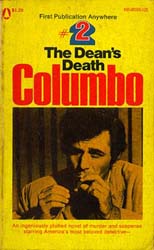 3. Any Old Port in a Storm (1975) By Henry Clement. A faithful novel version
of the outstanding third season episode ( teleplay by Stanley Ralph Ross, story
by Larry Cohen ).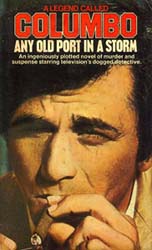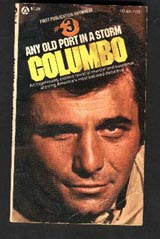 4. By Dawn's Early Light (1975) by Henry Clement. The true adaptation of
Howard Burke's fourth season episode.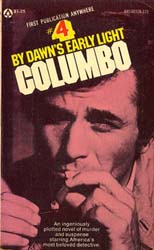 5. Murder by the Book (1976) by Lee Hays. The fifth book in the Popular
Library series goes all the way back to the first Mystery Movie.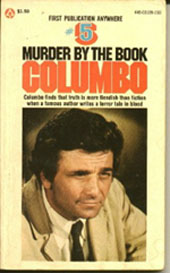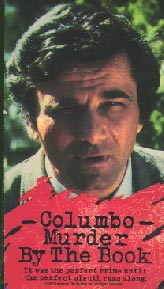 6. A Deadly State of Mind (1976) by Lee Hays. A lively translation of Peter S. Ficher's finale forth season.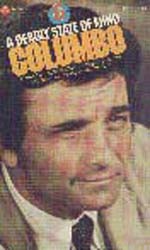 Although the Popular Library series ended with Deadly State of Mind, a seventh Columbo novel was published by Walter J. Black in 1980.

Columbo and the Samurai Sword was written by Bill Magee and Craig Schenck. This one has some very un-Columbo-like touches, including a high-speed chase through Hollywood, graphic details of a murder victim and a long scene in which the killer advances on our hero with a sword.

Other Columbo's in Print
Columbo :The Game Show Killer; William Harrington; Hardcover; $19.76;

Columbo :The Helter Skelter Murders Vol 1; William Harrington; Mass Market Paperback; $5.39;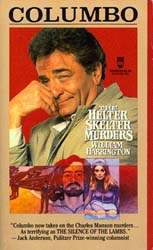 Columbo :The Hoffa Connection (Columbo , No 3); William Harrington; Mass Market Paperback; $5.39;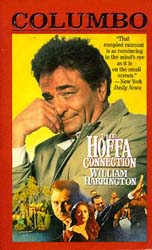 The Columbo Phile : A Casebook; Mark Dawidziak; Paperback; $13.45;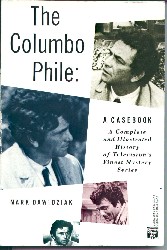 Columbo :The Grassy Knoll; William Harrington; Mass Market Paperback; $5.39
Synopsis: After the murder of controversial talk-show host Paul Drury, Lieutenant
Columbo must unravel the thirty-year-old mystery of the assassination of
President Kennedy, a crime whose perpetrator Drury had been about to expose
on his final show.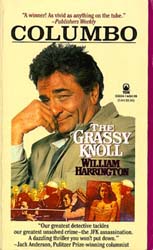 Columbo :The Game Show Killer; William Harrington; Mass Market Paperback; $5.39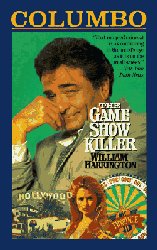 Columbo :The Hoffa Connection (Harrington's Series, Vol 3); William Harrington; Hardcover

Columbo :The Glitter Murder; William Harrington Forge, Mar 1997,
$21.95, 240 pp.
ISBN: 0-312-86161-3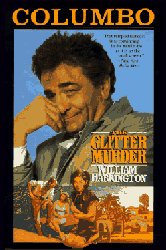 Film director Gunnar Svan has made many enemies in his lifetime. Even
his spouse, magazine owner Ai-Ling Cooper-Svan, who calls him "Top Gun",
is irate with him. It is bad enough that he has affairs with half the Hollywood starlets, but the Chinese-American woman is livid because her accountants confirmed that Gunnar embezzled, cheated and conned money out of her. Other people were also taken for a ride. So it is not surprising to anyone who knows Gunnar that he is murdered. Los Angeles homicide Lieutenant Columbo, along with other police officers and forensic experts, is at the murder scene where the corpse of the film director lies. Everyone, except for Columbo, is in agreement that this is an obvious case of a robbery gone bad.

The detective starts questioning his list of suspects, hoping to trap the killer in a paradoxical lie. If Columbo fails to uncover the truth, this case will go down as an unsolved robbery-murder. William Harrington is a very good mystery writer, who in his fifth Columbo novel successfully sticks to the Columbo script of telling who the killer is early in the book and allowing Columbo to match wits with the murderer. COLUMBO: THE GLITTER MURDER is an interesting tale, but like the previous four Columbo novels, the book lacks Peter Falk who is Columbo. Though the novel is well written and enjoyable, this reviewer suggests you watch the TV re-runs if you want the true flavor of Columbo.


The Cop Cookbook: Arresting Recipes from the World's Favorite Cops, Good Guys, and Private Eyes.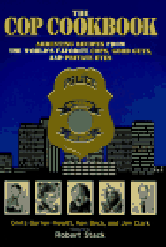 With favorite recipes from much-loved television and movie stars as well as from police chiefs in all 50 states, "The Cop Cookbook" is the definitive eat beat of the food prepared and served by those who protect and serve. This compilation of more than 300 recipes includes contributions from Clint Eastwood (Dirty Harry), Peter Falk (Columbo), Angie Dickinson (Pepper Anderson), and Dennis Franz (Andy Sipowicz). 150 photos.
The author, Greta Garner-Hewitt , 08/10/97:
The cop cookbook was a joy to put together! No do-nuts in this book! The tasty treats in this book will satisfy your hunger pains! All recipes were generously given to the authors by your favorite cop stars (Dennis Franz, Tom Selleck, James Woods, Tommy Lee Jones, Francis McDormand,Jack Webb, James Garner,etc.) and top cops from all over the country. Part of the proceeds from the book will benefit families of officers that have been killed in the line of duty. We hope to generate some good will toward police and some very good eats! We hope you enjoy it! 10-4!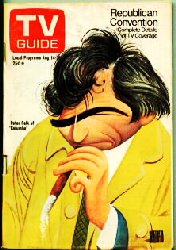 An American T.V. Guide Released August 8th 1976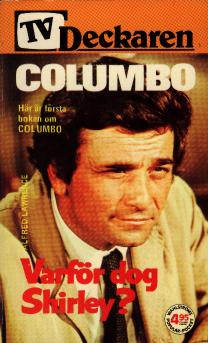 Varfor dog Shirley? Or in "English Why Did Shirley Die".
The first Columbo book written in Swedish. Published in Falun Sweden in 1975.
Ashes to Ashes Book from Japan.