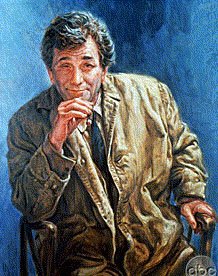 Murder, a Self-Portrait

Peter Falk - Birthday (1927 - )

Biography from Baseline's Encyclopaedia of Film

Occupation: Actor
Born: September 16, 1927, New York, NY

Education: Hamilton College, Clinton NY; New School For Social Research, New York NY (political science); Maxwell School of Syracuse University, NY (public administration) Gifted as both a comic and dramatic player, and best known, from 1971 to 1977, as scrubby, deceptively bumbling Lieutenant

Spouse Shera Danese (? - present)

He began his adult life as a cook with the merchant marine and, after acquiring a B.A. from the New School for Social Research and an M.B.A. from Syracuse University in public administration, became an efficiency expert for the Budget Bureau of the state of Connecticut. Bored with adding figures, he became interested in amateur dramatics and in 1955 turned professional with the encouragement of Eva Le Gallienne.He first gained attention in the off-Broadway production of `The Iceman Cometh,' which led to a busy career on Broadway and TV and in films. Adept at portraying Runyonesque hoodlums and big-city blue-collar characters, he won an Emmy Award for his portrayal of a truck driver in the TV play `Price of Tomatoes' and three others for his title role as an eccentric detective in the popular `Columbo' series (1971---77; late 80s revival
plus several television movies based on the series in the late 80s and early 90s).

Columbo on TV's NBC Sunday Mystery Movie. Falk appeared in three John Cassavetes films in the 1970s and gave a memorable performance, as himself, in Wim Wenders's art-house success WINGS OF DESIRE (1988).

Oscar Nominations

He received Oscar nominations as best supporting actor for his work in the films Murder Inc. (1960) and Pocketful of Miracles (1961). In 1972 he won a Tony for his performance in Broadway's `The Prisoner of Second Avenue.' His characters derive added authenticity from his squinty gaze, the result of the loss of an eye at the age of three.

Academy Awards

Nominated for Actor 1960 : MURDER, INC.
Nominated for Supporting Actor 1961 : POCKETFUL OF MIRACLES

Other works

Music video for Ray Parker Jr.: "Ghostbusters"

Additional Info/ Trivia
One of his greatest passions is drawing and sketching; has studio on grounds of Beverly Hills estate.
His right eye was surgically removed at the age of three, because of cancer.
Graduated from Ossining High School.
President of his class.
Worked as an efficiency expert for the Budget Bureau of the state of Connecticut before becoming an actor. Studied acting with Eva Le Galliene and Sanford Meisner.
Is a Certified Public Accountant.
Falk puts damper on rumor that his trademark 'Columbo' raincoat has been placed in the Smithsonian Institution: says it's in his upstairs closet.
First foray into acting: filled in the role of detective in high school play when original student-actor fell sick. Left college to serve as a cook in the Merchant Marines. Returned and received poli. sci degree from NY's New School, then graduate degree from Syracuse U. Applied to CIA, but was turned down. Then took state budget job in Hartford, CT. Five years after he started taking acting lessons, he earned first Oscar nomination.
Columbia Studios chief, the boorish Harry Cohn, rejected Falk declaring, "For the same money, I can get an actor with two eyes!"
Celebrity sponsor of the Great American Meatout, March 20, 2001.
Falk's mother is Russian and his father was Polish, with a mix of Hungarian and Czech further back in their ancestry. So, contrary to Falk's public image, he is not an Italian but a mixture of very hardy Eastern European stock.
Once when he was playing in a Little League game, the umpire called him out. Falk thought that he was safe. He pulled his glass eye out of its socket and handed it to the umpire, telling him, "Here, I think you might need this."