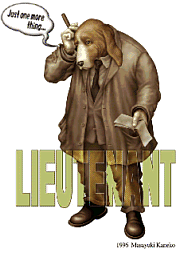 "copyright Masayuki Kaneko"
Like most shows, Columbo had a set formula, a pattern each episodes followed, that was at least partially responsible for the shows success. Unlike most detective shows, Columbo was never a whodunnit. At the beginning of each film we saw the murderer carefully execute his plan. Already knowing who was responsible, we were left to derive our enjoyment from the battle of wits that would follow: Columbo vs killer.Oddly enough, there were three other things we could count on in each episode.

First, Columbo's vague comments about his wife and his past. Gathered together, perhaps these could be used to unravel the mystery of the Lieutenant himself.

Second, Columbo's "just one more thing....." questions. These were always the ones that would eventually trip the killer up. Presented as almost an afterthought by Columbo, they almost always caught their victim off guard.

And finally, and most puzzlingly, in almost every episode one piece of music appears. Some times as incidental background music, but more often than not, the Lieutenant is whistling or humming it to himself. The piece is the old children's
song, "This old man came rolling home".

"Columbo", created by William Link and Richard Levinson and portrayed by Peter Falk, was a Los Angeles police lieutenant working in Homicide. He solved his cases through extremely dogged and careful pursuit of all clues. Painfully obsequious sometimes, his blade-sharp analysis would always be hidden by an apparant shambling disorganised nature that always made the criminal underestimate him and make mistakes.

Everybody loved "Columbo". While it had its share of poor episodes, on balance it was one of the best-plotted crime series ever made for television. It was also almost unique in using the open book style of mystery, where the viewer actually sees the murder taking place at the very start of the episode. Columbo generally enters the story about fifteen minutes into the plot and it's then a hunt as with our priviliged position we see him begin to suspect the right person and then to nail him or her down steadily and inexorably and often brilliantly.

The best known episodes of "Columbo", and arguably simply the best episodes, were the ones produced for Universal City Studios between 1971 and 1978. These were produced in what broadcast network NBC called a wheel: "Columbo" rotated in its slot with, variously, episodes of "McCloud", McMillan and Wife and other shows. This meant that "Columbo" was actually only on once a month and appeared almost as a TV movie rather than an episodic television series. Arguably this contributed to the strengths of the show, making it an event rather than a steady stream of stories.

However, as well as the main '71-'78 run with its 43 episodes, "Columbo" lived before and after that run. According to Mark Dawidziak, writer of "The Columbo Phile" (Mysterious Press, 1988/89, ISBN 0-89296-984-9), the very first appearance of the character wasn't in a short story called " May I Come In". The end of that story is a knock at the door: it's the police, and if the door had opened it would have been Lieutenant Columbo standing there. It's not entirely a fantasy supposition, for "May I Come In" was shortly afterwards adapted into an episode of "The Chevy Mystery Show" called "Enough Rope" and the character appeared. Columbo made his first entrance in a live broadcast of "Enough Rope", and was played by Bert Freed.

The episode screenplay was further adapted when creators William Link and
Richard Levinson made it into a Broadway stage play, taking the title "Prescription: Murder" and starring Thomas Mitchell as the Lieutenant.

It was this that led to the television episodes, but slowly. Some time later, "Prescription: Murder" was made into a one-off television movie, at last starring Peter Falk. Immediately popular, it was still longer before NBC decided to have a series about the lieutenant. Partly because neither the creators nor Peter Falk wanted to run the show as a weekly one-hour series, the programme wasdelayed until NBC concocted the wheel idea. Even then, "Columbo" wasn't guaranteed because it was suspected that "Prescription: Murder" and the general idea of the format might have been done to death. But a pilot episode was commissioned, called "Ransom for a Dead Man" and finally the show took off.

By the time it ended in 1978, "Columbo" was one of television's most popular
series ever, and at the time also one of the most expensive to make. Persistent
rumours of a return of the lieutenant started immediately the last episode aired,
and in 1988 ABC Television announced a new series. It's become an irregular show since then and has lost some of the charm of the originals, but the format is intact and the mysteries still strongly plotted.