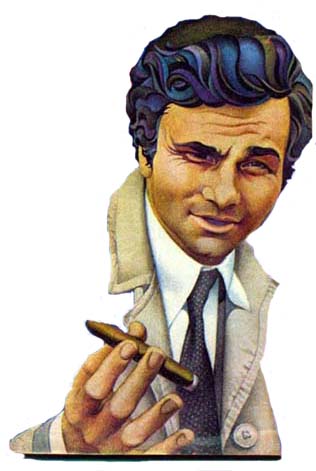 The Contributors
Special Thanks To: Peter Falk
Francesca Redwine
Steve Baratta, Boonchai Panjarattanakorn, Nico Trenti - France, Paul Coates - UK, Linda Brice - UK, Neal Silverman, Chris Dawson and Mark Dawidziak - for the fantastic Columbo Phile.
Ted and I wish to thank the following people who have contributed to the site and without their help the site would not be as good as it is today.
This page is dedicated to the all the Columbo fans from around the world who have helped with "The Ultimate Columbo Site".
The site would not be what it is today without the many wonderful contributions from the fans.
The site was born on the 17th February 1997 when I applied for a new Internet Developer Position and wondered what I could create, in a few weeks, to help with any difficult interview questions. The site was created and I was hooked. There was no dedicated Columbo site on the Web so the counter started to rise and fans were asking about running times, vote forms and cast listings, it was very time consuming but great fun!
It was soon evident that this was going to be too big a task for one person!. The site quickly improved and the fans flocked in growing numbers.
Ted Kerin joined the team a year ago I'll let him tell you in his own words how we made contact:
"I've been a "Columbo" fan from the start".
Then about a year ago I discovered Steve's "Ultimate Columbo Site". There was nothing near that quality about "Columbo" anywhere on the web, and I found it interesting that Columbo is so well appreciated in Europe. I began corresponding, then contributing.
Our vision for the site has been to maintain an emphasis on solid information, text that is both informative and entertaining, so that we are not just a "picture book".
Ted.
The web site has to be created in our spare time, so there have been a lot of late nights and long weekends, but we feel it has been worth it as we want to make sure the web site is a true credit to "Columbo".
The site, for myself, took off when Peter Falk replied to my letter containing several pages from the site, Peter thanked me for sending them and he enclosed one of his famous sketches, not of a naked women but of is own Columbo sketch. I'll treasure it forever.
Once again Thank You
Also a big thanks to all the fans who have viewed our site.
Steve and Ted